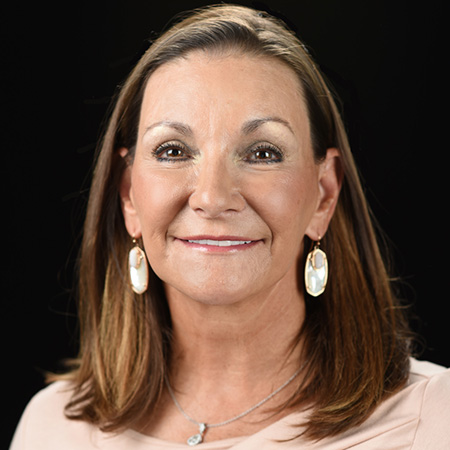 Paula Marshall
Chairman/CEO
Joined Bama in 1970
As Bama's Chief Executive Officer, Paula provides strategic leadership and direction to the entire organization. Her vision stands as a beacon for Bama team members, inspiring the organization to achieve the Bama mission – "People Helping People Be Successful". Paula assumed responsibility as CEO of the Bama Companies in 1984, which now includes Bama Pie, Bama Foods, Bama Frozen Dough, Beijing Bama and Bama Europa. Under her leadership Bama has expanded to provide a wide variety of frozen desserts and baked goods to fast food chains and casual and family dining restaurants. Paula received her Bachelor of Science in business from Oklahoma City University (OCU) in 1982, and her PhD in commercial science, also from OCU, in 1993. Paula is the author of four books, the most recent was co-authored with New York Times bestselling author Jim Stovall. The Executive Entrepreneur is an important conversation starter about how all business people must embrace both entrepreneurship and management to succeed. To purchase Paula's books, visit her amazon page.
Rocky Moore
Chief Financial Officer
 Joined Bama in 2001
Rocky Moore is the Chief Financial Officer at The Bama Companies, Inc. His responsibilities include finance, accounting, banking, information services, strategic planning, legal, and merger / acquisition activity globally. Rocky works to position Bama for long term success by helping create strategies designed to drive profitable, sustainable growth. Rocky has over 30 years of experience in finance and accounting and holds Certified Public Accountant and Six Sigma Green Belt certifications. Rocky began his career at Ernst & Young in Assurance Services and received his BSBA in Accounting and Finance from the University of Tulsa in 1995. The University of Tulsa awarded him the Young Alumni of the Year award in 2004 as recognition for the outstanding achievements and successes that have accompanied his career. In addition to his work at Bama, Rocky previously served on the board of the Ronald McDonald House of Tulsa for over six years as Treasurer. He currently serves on the board of The Pencil Box.
Tenille Brown
General Manager
Joined Bama in 1999
Tenille serves as the US General Manager. Her responsibilities include aligning Bama's strategic direction with the Operations, Customers, Quality, People Systems, Supply Chain, and Engineering departments. Tenille works on system view approaches for long-term company and team member success. Tenille spent many years leading our customer group, where her team was responsible for innovation, commercialization, sourcing and pricing, compliance, marketing insight, promotional management, and customer service.  Tenille received her Bachelor of Business Administration from The University of Oklahoma, and her MBA from the University of Tulsa.
Jacob Chapman
Manager – Business Execution
Joined Bama in 2015
As one of the leaders within Bama's sales team and a fourth–generation member of the family business, Jacob's responsibilities include new sales, customer relations, product development, consumer research, product production, marketing and execution of overall sales initiatives. As a fourth–generation leader at Bama, Jacob continues to work his way throughout the entire Bama organization, gaining experience and knowledge within every department and operation within the organization. Jacob's experience so far includes, general production, quality assurance, supplier quality audits, operations management, customer relations, product development, public relations, marketing, insights and research as well as other various facets of the organization. Jacob is Tulsa native. A Bishop Kelly Graduate, currently working toward his B.S. in Business Management. He currently serves on the Board of Directors for Food On The Move.